In our great state of Florida, it's important that your hurricane protection products are Miami-Dade compliant and able to withstand all hurricane categories. Fortunately, these are standards that most sellers and installers in the sunshine state abide by— but it doesn't exactly help you narrow down your choice.
However, a few particular storm solutions manufacturers stand out for their superior quality products and long-standing reputation.
Similarly, certain storm-safe product installers in SWFL are revered for their top-notch craftsmanship and dedicated service.
So why turn to Storm Solutions for your Florida hurricane solutions vs the competition? Let's look at what sets our hurricane products and team apart:
Our Hurricane Windows
While no hurricane window can claim to be "unbreakable," our hurricane protection windows are some of the best-rated impact windows on the market.
Storm Solutions only works with the industry's highest praised brands to ensure you have the best hurricane windows for your home or office. While some installers claim they use the best products, we actually have the partnerships to prove it. Our products come from the nation's leading manufacturers— and when we need additional supplies to supplement our hurricane windows, we turn to trusted, Florida hurricane-compliant brands such as PGT, Plastpro, CGI, Origin, and SIW.
Our pros will help find the right windows for your home and budget.
Try Our Free Window Pricing Calculator
Not only do we have impact windows in all shapes and sizes, but we also have a convenient Window Pricing Calculator to help estimate the cost of your investment. This is just another way the Storm Solutions team makes your purchasing decision easier!
Our Hurricane Shutters
Even with hurricane windows, your home and business can still benefit from hurricane shutters. At Storm Solutions, we offer four very different types of hurricane shutters, all up to Miami-Dade NOA (Notice of Acceptance) standards for Florida building codes.
During your free estimate, our technicians can help you decide which shutters provide the perfect balance between the budget, protection and aesthetic for your home or business.
We even offer timely service, like shutter motor repair and replacement, slat replacement and annual service maintenance— something you'd never receive when purchasing your shutters from a big box store.
Curious to see some of the best brands for hurricane shutters? We've got 'em!
Our Hurricane Doors
Our hurricane garage doors are created with incredibly strong, factory-tested fiberglass, aluminum, and impact glass. This makes them up to three times stronger than ordinary, pre-installed vinyl doors. While this added strength is to be expected when purchasing a storm-safe product, here at Storm Solutions, we trust corrosion-resistant, specially engineered producers like PGT, Therma Tru Doors, WinDoor, Plastpro and CGI.
These brands have withstood the test of time and earned high praise for their extraordinary strength and durability. Plus, if you ask us, they sure look sharp. Every door we offer is stylish— not at all "clunky" like you might expect of a hurricane door.
From hurricane-safe fiberglass and aluminum entry doors to weather-proof French and sliding doors, we have your home covered. We even have heavy-duty garage doors, boasting commercial-grade protection. Many of our doors even include a lifetime warranty, including our Therma-Tru fiberglass doors.
Not only do we have certified staff for quick, reliable installation, but we can routinely service and repair all the products we sell, as true long-term partners.
They're not your ordinary doors.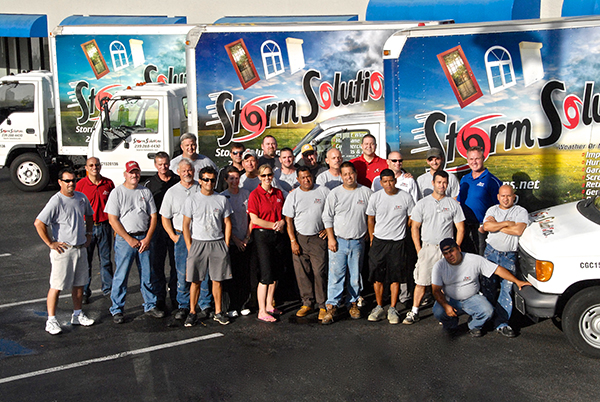 The Storm Solutions Difference
Along with our high-quality products, we have a team of professional technicians that are factory trained to meet the industry's latest standards and best practices.
In addition to our great brands, when you turn to our qualified team of top industry professionals, you can have peace of mind knowing you are receiving the superior services and maintenance you deserve.
Curious to see our products in person? Visit our showroom to touch and tinker with our storm solutions for yourself.
We proudly offer free estimates so you can fully understand what products we are recommending and why are recommending them.
Contact us today to schedule your appointment!