Many of the homes in Southwest Florida make the most of beautiful views by adding large windows, doors with sidelights, and other architectural features to let in natural light. Living spaces also tend to flow out onto decks and porches, outdoor kitchens, pools, and canal-side or Gulf-front cabanas to take advantage of the warm weather.
By adding screen enclosures with sturdy screens you'll be able to keep out insects, extend your outdoor living space, and enjoy it year round. Having a lanai screen is one of the best ways to do that, as a lanai is a great location to spend your time when the weather is warm and comfortable. Having sunny, pleasant days most of the year adds to the value of your Southwest Florida home's outdoor spaces.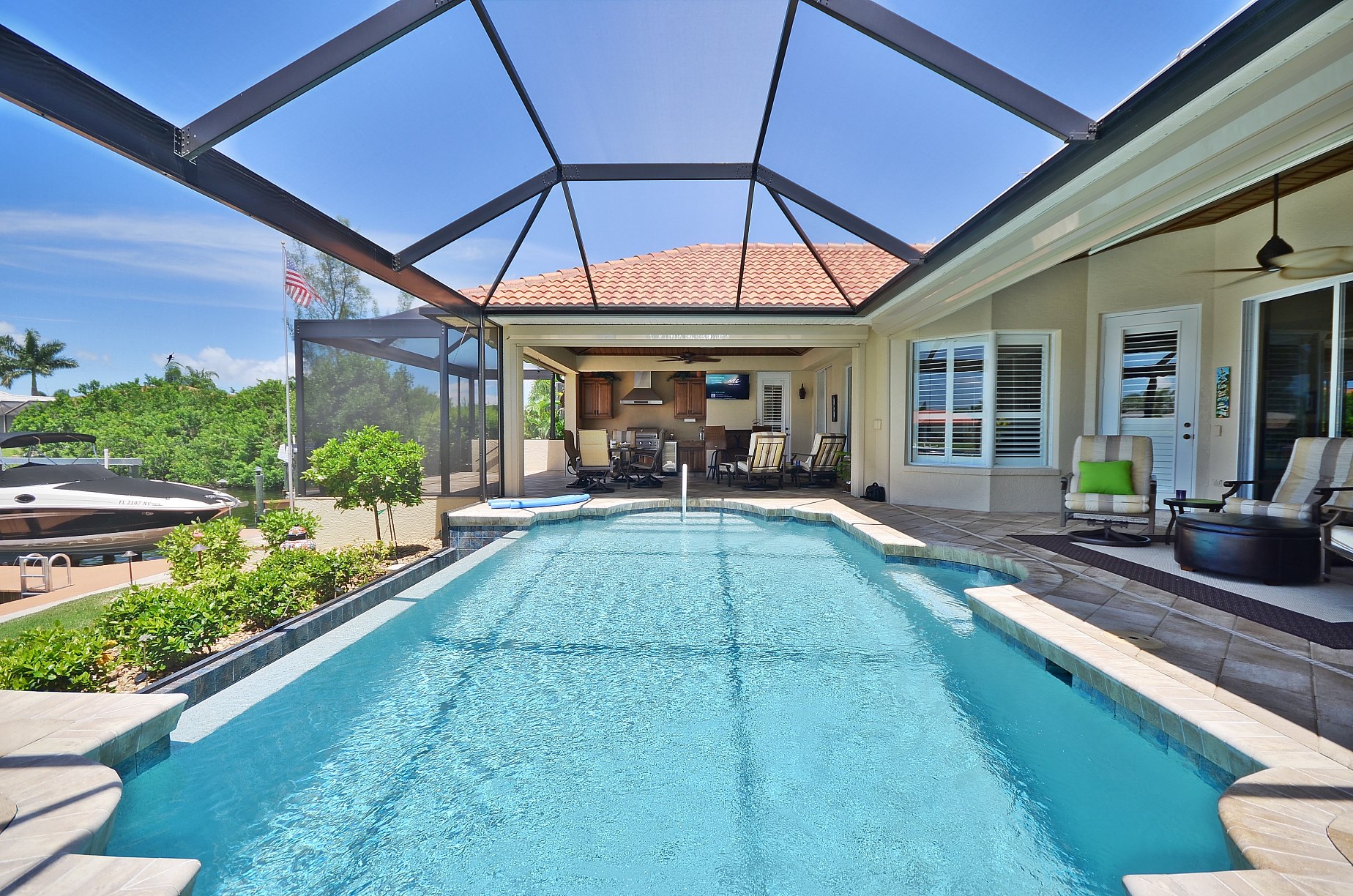 How a Lanai Screen Enclosure Will Increase Comfort & Enjoyment in Your Outdoor Space
Homeowners know a lot of factors affect the way they design and use the space around their home. In Southwest Florida, there are unfortunately a few things that can threaten your enjoyment of outdoor spaces such as your lanai screen enclosure. These threats include:
Insects. There are all types of bugs in Southwest Florida and plenty of them would be happy to share your space. With a pool cage screen and a screened-in patio, you'll reduce your interaction with insects.
Hot sun. The heat of a Southwest Florida summer can be daunting, but with a lanai screen you can spend more time outdoors in comfort.
Storm and wind debris. With thunderstorms and hurricanes as a part of life in Southwest Florida, you can keep your outdoor spaces and pool protected from debris blown into the area by storms and windy days.
Nuisance animals. There's nothing like a raccoon on your lanai to make you want to go back inside. But with a lanai screen enclosure and a privacy screen for your pool cage, you can keep critters out of your outdoor spaces.
Vandals and burglars. It's not just animals that can be a nuisance, as outdoor spaces are also open to burglars and vandals. Fortunately, a good lanai screen can reduce the risk of these kinds of problems. It makes things more difficult for criminals, who may move on to easier options.
Stray golf and tennis balls. If your Southwest Florida home is near a golf course or tennis court, you could end up with stray balls in your outdoor space. A pool screen and screened-in patio will help to keep them where they belong.
Nosy neighbors. Not everyone values privacy as much as you might, and if you have nosy neighbors it's a good idea to discourage them from peeping. You can do that more easily with a good lanai screen.
These threats and nuisances make it important for homeowners to 1) enclose outdoor living spaces and pool areas with high quality lanai screen and pool cage screen structures, and 2) keep those screens in good repair all year round.
By installing high quality screen structures around your outdoor spaces, you can:
Extend your usable living space to the outdoors. This is particularly easy to do if you're enclosing a covered lanai or a front porch.
Protect your family and guests from annoying bugs. Keeping insects like no-see-ums and mosquitoes out of your space adds to your outdoor enjoyment.
Protect your outdoor living spaces and pool areas from storm and wind debris. There's nothing like fishing leaves from the pool and cleaning pine needles from the deck, but you can avoid it all.
Shield your pool and entertaining spaces from grass and landscaping clippings. Keeping your yard looking great shouldn't come at the expense of harming your entertainment areas.
Keep out animals. Don't worry about raccoons and squirrels ever again, when you can keep animals out easily with a lanai screen.
Deter burglars with lockable doors. When it's not easy for burglars to get to your property, they'll go elsewhere.
Keep family pets contained. You can let your dog or cat explore the outdoors and sniff the air all day, but they can't get lost or put at risk when they're on a screened-in patio.
Create full or partial privacy around certain areas of your home, such as the pool. Those nosy neighbors can find something else to do when you have a lanai screen and privacy screen for the pool cage at your home.
Block some of the sun's UV rays. The summer sun feels great, but it can sometimes be a little too much. A lanai screen will help reduce it and add to your comfort level.


Lanai Screen Options To Protect Your Outdoor Living Space
Many Floridians find they need to replace their lanai screen every few years. When these homeowners come to Storm Solutions, we quickly see that their contractors installed typical 18/14 mesh screens, which don't hold up for more than 3 to 5 years. That makes periodic replacement a costly project. While these mesh screens are still one of the most popular and affordable options, other types of screens are available to protect your home for longer.
Super Screen. Available with no-see-um properties in several grades of mesh, Super Screen blocks even the smallest insects and harmful UV rays while allowing visibility. It's mold-resistant and won't bleach or fade. It even exceeds Section 553.73 of the Florida Building Code for pool fencing! This super strength makes the lanai screen resistant to tears and punctures from falling objects, hailstones, golf balls, debris that blows toward your property in a storm, pets, and rodents. Super Screen comes with a 10-year warranty, and is the longest lasting and most versatile lanai screen option.
No-see-um 20/20 Screen. Designed to keep out no-see-ums, punkies, midges, and other annoying types of insects, no-see-um screening is a very fine mesh screen for your lanai or pool area. Even though it's often sold in rolls for do-it-yourself applications, this type of screening is most effective when it's installed by professional screening and window companies like Storm Solutions.
Florida Glass Screen. This vinyl-laminated fiberglass screen provides privacy while blocking airflow, water, and debris. It's often used around pools and patios to keep the area free of grass clippings and nosy neighbors. Typically, the product is installed toward the bottom of an enclosure, while screening that provides visibility and airflow is installed at the top.
Call Us For Screening Solutions
Looking to screen your living space, but not sure what type of protection is most important to you? Storm Solutions carries a wide range of products for both lanai screen enclosures and hurricane protection. We install and repair all the top brand names in the industry to meet your exact needs and budget.
If you live in Naples/Marco Island, Fort Myers/Cape Coral, or Port Charlotte/Punta Gorda in Southwest Florida or any of the surrounding areas, contact us for a no obligation consultation to learn more about custom screen enclosures. Just visit our website or give us a call at (239) 205-3193 to set up an appointment today.