Pricing: Storm Panels, Shutters & Screens, Cheapest to Most Expensive
​​If you're shopping for hurricane protection for your window, you're in the right place! While strength, functionality, and aesthetics certainly play a huge role in making your decision, the cost is often the first thing many consider when choosing impact-safe window treatments.
What do Hurricane Shutters Actually Cost?
Let's look at the most common hurricane window covers from lowest cost to highest, to help you understand hurricane shutter cost and help you find the most affordable protection for your needs:
Storm Panels: $5-15 sq ft
For the most part, storm panels are the least expensive form of hurricane protection for safeguarding windows. There are a few reasons why the cost of panels is often so low:
Storm panel materials aren't as costly to get/as complex to make as, say, hurricane shutters or screens. Typically, storm panels are made out of steel, aluminum, or clear/white plastic.
Storm panels aren't fixed features. They can be removed and don't need costly hardware or framing to secure.
Storm panels don't have many upgrades. They don't offer additional functionality like motorized storm shutters—helping to reduce the cost.
Here at Storm Solutions, our storm panel costs vary depending on the material you choose. Steel panels average around $5-10 a square foot, while Lexan clear plastic or aluminum panels run roughly $10-15 sq ft. Discover the benefits of choosing storm panels or view our stock.
Accordion Shutters: $15-20 sq ft
Accordion shutters collapse and fold like an accordion, and glide on wheels. They can be made out of steel or aluminum, like storm panels, but accordion shutters are a little more costly because:
Accordion shutters are installed permanently. They require a roller-carriage system/ window track, which they slide open and closed on.
Accordion shutters can have a lock system. Some accordion shutters come with a center handle and key lock on the inside or outside of the treatment. This can help to reduce the chance of theft.
As for hurricane shutter cost, our accordion shutters cost between $15-20 a square foot, depending on the vertical slat size or stacking option you choose. Learn more about our accordion shutters here and discover why shutters, in general, are such a popular form of hurricane protection for Florida homes and businesses.

Hurricane Screens: $20-30 sq ft
Hurricane screens are often a better option for larger openings like lanais, pools, or storefronts. Impact screens help to ensure visibility isn't completely blocked to the outside, but still pack a mighty punch for being such a thin barrier. Our hurricane screen is still tested like any other hurricane product, with high-velocity simulations. With hurricane screens, you pay for a few added perks and your hurricane shutter cost will be higher. The perks include:
Some hurricane screens offer multi-purpose functionality. Of course, the screen functions as a hurricane guard, but many screens can also serve as UV deflectors and insect deterrents.
Hurricane screens can be motorized. Your screens can open and close on command instead of needing to manually crank. This added luxury comes with an additional price tag to your hurricane shutter cost. Here at Storm Solutions, it's an extra $600.
Because of these features and the special Twitchell OmegaTex fabric our screens use, this storm protection will cost you around $20-30 per square foot. Read up on our hurricane screens here and see what sets our chosen brand, Atlas Armor, apart from other storm screens.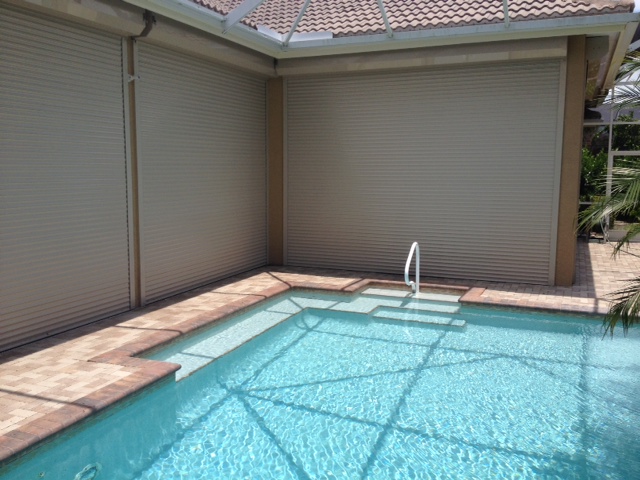 Roll Down Shutters: $25-35 sq ft
Roll down shutters work well for large openings near a lanai, pool, or in place of a garage door. They're also popular choices for smaller windows that offer room for a panel box above the frame, which the shutters collapse into when contracted. These types of hurricane shutters are considered a heartier storm solution than some other options discussed because:
Higher-strength materials. Our Bertha™ roll-down aluminum shutters extend beyond your window treatments needs, with quality aluminum alloy doors.
Our line of hurricane roll-down shutters are priced between $25-35 a square foot and are probably our best seller! Continue researching our roll-down shutters here.
Bahama Shutters: $40-50 sq ft
Bahama shutters are desired primarily for their elevated aesthetic. They often look much nicer and blend into your home's design than other hurricane shutters. These permanently affixed shutters are mounted above your windows and can open at a 45-degree angle. Bahama hurricane shutters have the highest hurricane shutter cost when compared with other options, because:
Bahama shutters offer permanent shade protection. Even when cracked open, your home will always be shielded against Florida's intense sunshine.
Bahama shutters are considered the most stylish. Oftentimes,

the aluminum slats

are painted to mimic a more earthy, wooden look that is less "industrial" than other storm solutions.
As the most highly desired hurricane window treatment, Bahama shutters cost between $40-50 a square foot. Discover Everything You Need to Know About Bahama Shutters or ask us about our inventory.
Extend Your Hurricane Protection
While hurricane window treatments can do an excellent job shielding your windows from debris, should they be compromised, you need strong glass to protect you from intrusion. Are you curious to see how much it would be to replace your current windows with impact glass? We have a calculator just for you! Learn more about our impact window pricing guide and get an instant quote using our Window Pricing Calculator.