If you live in Florida or another area affected by hurricanes, it's important that you take the necessary steps to protect your home from the wrath of Mother Nature. Hurricane shutters are by far the most popular form of hurricane protection, and they're designed to block flying debris and protect you, your home, and your family during a hurricane.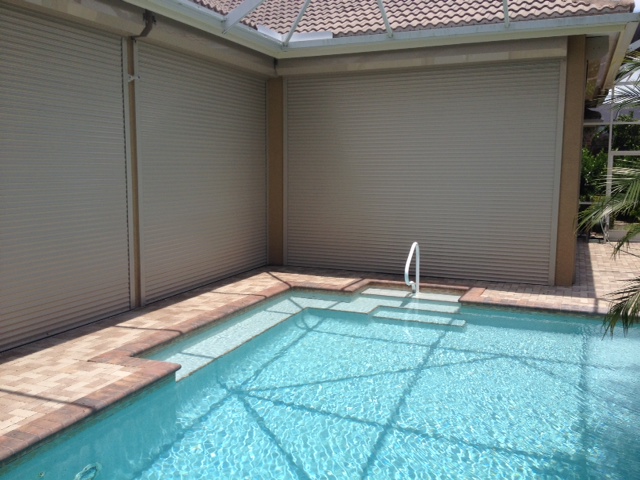 In order to be fully prepared for hurricane season, it's important that you protect your home with a solution that's designed to withstand hurricane-force wind. Hurricane shutters are popular due to their versatility, strength, and affordability. However, there are many misconceptions out there regarding proper use, maintenance, and installation.
Thinking about buying hurricane shutters for your home? Here are five things you need to know.
Plywood is not a substitute for shutters
One of the biggest misconceptions out there is that plywood is an acceptable substitute for hurricane shutters. Although they may cover up your windows like shutters do, that is where the similarities end. Hurricane shutters are designed to withstand hurricane-force winds and meet current Florida Building and Dade County codes. The same can't be said for plywood. Plywood is an okay last-minute solution if you don't have anything else, but it should never be used as a permanent hurricane protection product for your home.
Hurricane shutters shouldn't be left up all year



All too often, people put up hurricane shutters early or leave them up all year, either to avoid the hassle of installation, to deter criminals, or possible even for safety reasons. Keeping up hurricane shutters when there isn't a hurricane is a hazard. If a fire were to break out and block your door, you would have no way to get out of your home, and more importantly, the fire department would have no way to get in. Additionally, keeping your shutters up can attract burglars because it leads them to believe that no one is home. As tempting as it may be to keep your shutters up all year, it's better to deploy them only when there's an actual threat of a hurricane.
There are a variety of options to choose from



It's easy to think of hurricane shutters as the ugly aluminum panels, however, there are a variety of options to choose from. Aluminum shutters are by far the least expensive of the bunch, but if aesthetics are important to you, there are options that are aesthetically pleasing and look more natural, such as Bahama shutters. Other options available include roll down shutters and accordion shutters.
Shutters need to be cleaned and maintained



Hurricane shutters are your first line of defense during a storm, but they won't work properly if they're not maintained. It's important that you have your hurricane shutters inspected annually, preferably before the start of hurricane season. This will make sure that everything is working perfectly and that you're prepared in the event that a hurricane hits. If there are any problems, don't put off fixing them. Whether it's a crack in the hurricane shutter or the motor is broken, it's essential that you get it fixed right away. Additionally, make sure you open and close your shutters at least once every six months to make sure everything is still working, and use warm water and a mild soap to clean them.
---

Schedule an appointment to visit your home or business and discuss your goals, measure, count windows, and find the best most affordable solution for you.
---
A professional should do the initial installation



After purchasing hurricane shutters, you may be tempted to do a DIY shutter installation, but this can lead to unforeseen problems. Hiring a professional for the initial installation of your hurricane shutters will ensure that the shutters are put on in a way that will provide optimal protection for your home. Professionally installed shutters tend to come with a manufacturer's warranty that protects against defects. Plus, without a licensed contractor, there's no guarantee that the necessary permits and clearances have been filed prior to installation.

If you're thinking about buying hurricane shutters for your home, the best thing you can do is to meet with a professional hurricane protection company. They can help you better understand the benefits of hurricane shutters and will explain everything you need to know about maintenance, installation, and the options available to you.